On April 30, we hosted a free "Is the Glass Half Full or Empty?!" virtual lunch using GoToMeeting. Ryan O'Connell led our discussion about the last year in the market, where we are now, and how to view the future as an investor.
Here are 5 takeaways from the 40-minute conversation:
#1. Flashback to 1998?
We have hit the most all-time highs at this point in the year (21+) since 1998, which was shortly before the dot-com boom and burst. The link to 1998 is concerning because history tells us that the unprecedented pace we are currently on is not sustainable.
#2. V-Shaped Recovery Accomplished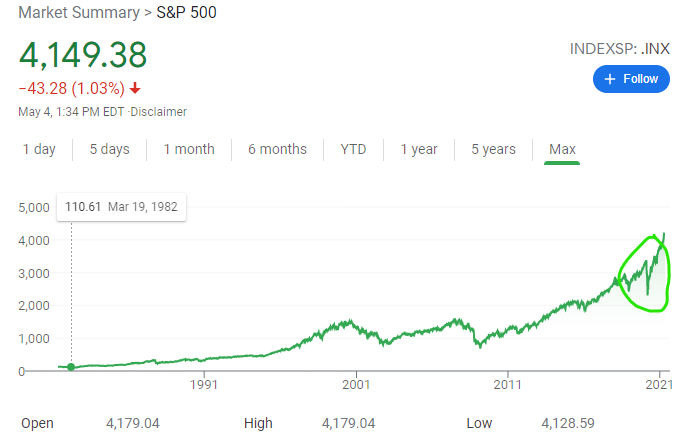 There is no denying that 2020 was a troublesome year for the economy. However, we have more than recovered in 2021, leading to a full V-shaped recovery. According to Market Business News, a V-Shaped recovery is a "period of economic decline, then a short trough, and finally a rapid recovery." The rapid recovery has turned into a meteoric rise.
#3. Is 4500 Possible?
In the virtual lunch, we discussed the recent performance of the S&P 500 and where we are now. Currently hovering around 4,150, there is the belief that we will hit 4,500 within the next six months. How we get there, however, is still to be determined. We will not reach 4,500 in a straight line – there will be ups and downs during the next two quarters, and we should all be prepared.
#4. Opportunities in Emerging Markets
The U.S. market is still booming, but what happens if the dollar starts to get "soft?" International markets will benefit. Other countries, including big components of emerging markets (Brazil, India), continue to struggle with COVID, preventing their economies from recovering.
The rest of the world is underperforming (compared to the U.S.) at a rate unseen in the last 20 years. It is in these emerging markets where there may be opportunities over the next couple of years.
#5. The Importance of Active Management
The "easy" money has been made during this recovery. There are still opportunities to grow your portfolio, but they require active management. There are aspects of nearly every retirement portfolio that have not performed up to the levels analysts have predicted, and it's in those areas where there may still be profitable opportunities.
We do not recommend relying solely on index funds at this time. Have a plan and approach and tie it to your long-term goals.
Additional Takeaways
Stay positive! There are amazing things happening in technology and healthcare, and a lot to be excited about as an investor.
The (U.S.) money supply has increased by over 25% in the past year! There will be some pressure on the US dollar.
In the U.S., COVID cases and COVID-related deaths are declining, which is restoring confidence in our economy.
The Fed cut rates to practically 0, and they have stated that they will hold rates at this level for the foreseeable future.
Join Us in July!
We will continue these virtual lunch webinars on a quarterly basis. Our next meeting will take place on July 23, so save the date! Attending is always free, and we welcome you to ask any and all questions before or during the event.
What questions do you have about the market? Ask your questions by contacting us here.
Note: During the virtual lunch, we referenced the J.P Morgan Guide to the Markets.