Change can be challenging to navigate, especially when you have specific goals that are impacted by that change. When your employer merges with a competitor several years before your planned retirement, change is inevitable. How you react to that change will determine your future. Does this scenario sound familiar?
Are you confident with your retirement plan? Join the BTWM Virtual Workshop. RSVP by emailing lauren.runyan@bloomingtreewm.com
Sequence of return risk is a common issue that may prohibit you from living your second act to its fullest. Have you heard of it?
Sequence of return risk is defined as "The risk of receiving lower or negative returns early in a period when withdrawals are made from an investment portfolio." As you will see below, sequence of return risk can have a drastic negative impact on your future if it is allowed to slip into your portfolio.
Learn how to prevent sequence of return risk by continuing to read below, or RSVP now for Blooming Tree Wealth Management's upcoming free live workshop today! RSVP by emailing lauren.runyan@bloomingtreewm.com. The workshop will cover the essentials of retirement, how to know if you have enough money to retire on, and more.
How Sequence of Return Risk Can Ruin Your Retirement Plans
Think ahead a few years. When you retire, you will begin to withdraw from your retirement portfolio. Unfortunately, if your investments are not carefully structured, this can expose you to sequence of return risk and place uncertainty on your financial future.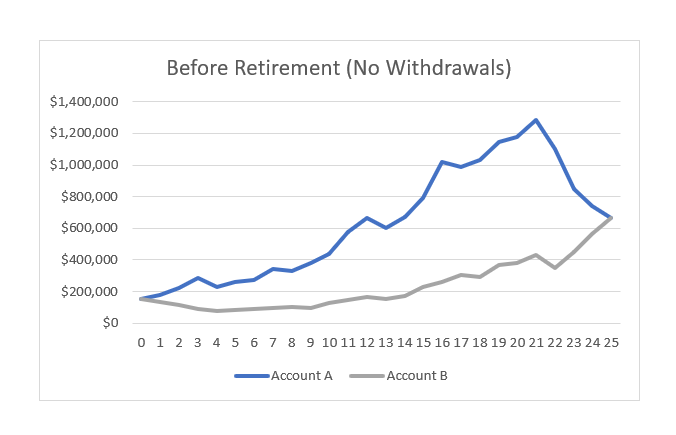 Before retirement, fluctuations in your rate of return from year to year are not as important as ensuring you are able to achieve a consistent rate of return. The above chart shows the performance of two accounts. Both accounts began with an initial investment of $150,000 and then grew at an average annual rate of 7%. The annual rates of return for the two examples above are inversed, but because there were no withdrawals, both accounts end with the same value – $665,736.
Now let us view what can happen during retirement when sequence of return risk appears.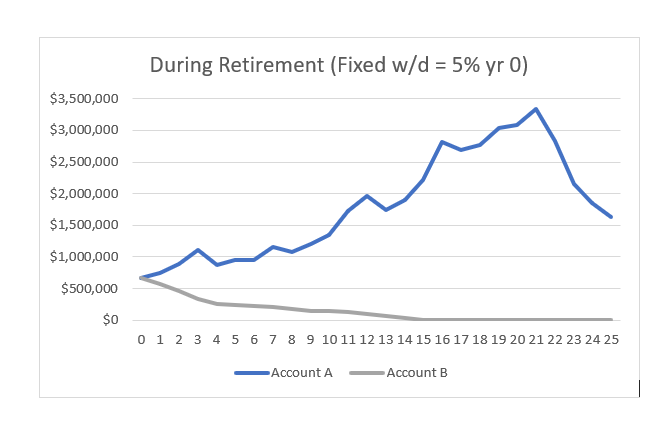 In both scenarios, the newly retired individual starts with the same amount -- $665,736. Both accounts are also growing or declining at the same rate as in pre-retirement in the first part of this example. The difference is that since this person is now in retirement, they are withdrawing $33,287/year (5% of the initial account value). As you can see, one scenario results in earning nearly $1,000,000 in gains from the original amount, while the other, due to sequence of return risk, is completely depleted by year 15. A few down years combined with regular withdrawals from the account prevented it from providing the necessary income and safety the retiree needed.
It is hard to predict when the market will have up or down years, although we know that both are inevitable. This makes sequence of return risk a real problem that you need to be aware of and protect against.
Imagine, for example, that you had retired between 2007 – 2009. Regular, fixed withdrawals coupled with the downturn in the market would have ensured that your account would decline, putting more and more pressure on a smaller and smaller pool of assets to provide the necessary income. The damage sustained in those first few years can have a dramatic impact both on retirement lifestyle and legacy planning.
Be Prepared! Join Us for Our Virtual Retirement Planning Workshop
If you missed my recent in-person workshop for BroMenn employees facing change due to the recent merger, do not worry! Before you make a major financial decision that will affect your retirement and allow yourself to be exposed to sequence of return risk, have your questions answered and educate yourself in the process. On Wednesday, 8/6, Blooming Tree Wealth Management's Ryan O'Connell will host a virtual retirement planning workshop.
There will be no sales pitches and no commitment required. This session will help you understand your options and make the best decision for you and your family as you near retirement and face an uncertain transition.
We will cover the following:
The essentials of retirement planning
The answer to "How much do I need to save?"
403b do's and don'ts
Budgeting for Medicare
How to avoid sequence of return risk
"Smart giving"
And more!
RSVP by contacting lauren.runyan@bloomingtreewm.com. Simply type "Workshop RSVP" in the subject line and you will be provided additional information, including the link to attend the online workshop later this month.
Do you want personalized help preparing for retirement now? Contact us today at 309-300-2760.
All entities are separate and not affiliated with LPL Financial.